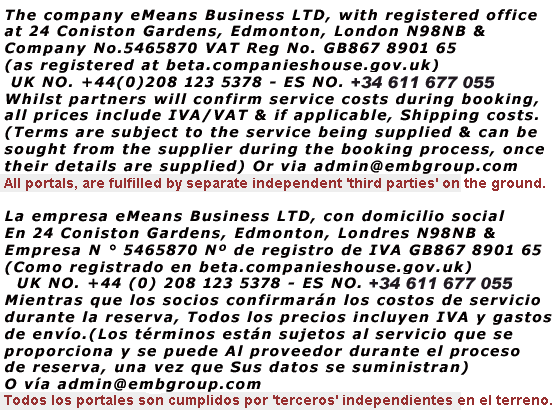 Some sites are informational, others are dormant as a stakeholder waiting for an industry to mature or materialise. All services or products via our portals, are fulfilled by separate independent 'third parties' on the ground. Who appear often, unfortunately, to ebb and flow in their provisions and service. We will always aim to be efficient and consistent, in dealing with a visitors enquiry or booking. Whilst there is already a Spanish contact number available, we aim to have personnel locally & offer our own services, in the future. If supply & demand begin to warrant it. eMeans Business ltd



THIS WEBSITE PAGE MAY INCLUDE ANY OF THE COOKIES BELOW
search your browsers add-ons for 'Ghostery' or another 'Cookie Management Plugin' for information on what a page does. More info: http://www.ghostery.com/
How Google uses cookies
https://www.google.co.uk/intl/en-GB/policies/technologies/cookies/
Google Analytics:
Purpose: Web Analytics/metrics. This category comprises cookies used to evaluate site performance in terms of number of visits, unique visitors, drop-off rate for transactions etc. We measure numbers and volumes of visitors to different parts of our site and this helps us ensure the service is fast and available when you want it. It also helps us ensure that different pages on our site are useful and easy to find.
Benefit: So service is available when you want it and fast.
Google analytics cookie information: http://code.google.com/apis/analytics/docs/concepts/gaConceptsCookies.html
| | | | |
| --- | --- | --- | --- |
| Name | Typical content | Description | Expires |
| _utma | Randomly generated number | Minimally intrusive Google Analytics Web metrics | 2 years |
| _utmb | Randomly generated number | Minimally intrusive Google Analytics Web metrics | When user exits browser |
| _utmc | Randomly generated number | Minimally intrusive Google Analytics Web metrics | When user exits browser |
| _utmz | Randomly generated number + info on how the site was reached (e.g. directly or via a link, organic search or paid search) | Minimally intrusive Google Analytics Web metrics | 6 months |
Google retargeting
Google uses Remarketing cookies – both first party (such as Google Analytics) and third party (such as DoubleClick) – to serve more relevant adverts to users who have previously visited our website, as they browse other websites. To opt-out from Google's remarketing program, please edit your Google Ad Settings.
How to control and delete cookies

We will not use cookies to collect personally identifiable information about you.

However, if you wish to restrict or block the cookies which are set by our websites, or indeed any other website, you can do this through your browser settings. The 'Help' function within your browser should tell you how.

Alternatively, you may wish to visit www.aboutcookies.org which contains comprehensive information on how to do this on a wide variety of browsers. You will also find details on how to delete cookies from your machine as well as more general information about cookies.

Please be aware that restricting cookies may impact on the functionality of our website.

If you wish to view a cookie's code, just open your cookie file in your browser and click on a cookie to open it. You'll see a short string of text and numbers. The numbers are your identification card, which can only be seen by the server that gave you the cookie.
For information on how to do this on the browser of your mobile phone you will need to refer to your handset manual.

To opt-out of third-parties collecting any data about your interaction on our website, please refer to their websites for further information.
---
---
---
---
---
---
---
Other sites may use a range of marketing efforts.
Controlling interest based advertising and other third party cookies
In addition to the controls available on your computer there are also other ways of controlling interest based advertising and other tracking cookies and the links to each are provided below.
Internet Advertising Bureau (IAB) "Your Online Choices" page. This allows you to control interest based advertising from each of the ad networks represented by the IAB.

Network Advertising Initiative (NAI) control page. This allows you to control behavioural advertising from each of the ad networks represented by the NAI.

Digital Advertising Alliance's self-regulatory program for online behavioural advertising control page.
It's possible to have control on how your browsing activity within sites is recorded by analytics cookies. MailOnline uses two different analytics tools, which you can control:
---
How we use your information
This privacy notice tells you what to expect when the Information Commissioner's Office collects personal information. It applies to information we collect about:
visitors to our websites
complainants and other individuals in relation to a data protection or freedom of information complaint or enquiry
people who use our services, eg who subscribe to our newsletter or request a publication from us
people who notify under the Data Protection Act
job applicants and our current and former employees
Visitors to our websites
When someone visits eMBgroup websites we collect standard internet log information and details of visitor behaviour patterns. We do this to find out things such as the number of visitors to the various parts of the site. We collect this information in a way which does not identify anyone. We do not make any attempt to find out the identities of those visiting our websites. We will not associate any data gathered from this site with any personally identifying information from any source. If we do want to collect personally identifiable information through our website, we will be up front about this. We will make it clear when we collect personal information and will explain what we intend to do with it.
Use of cookies by the eMBgroup
Cookies are small text files that are placed on your computer by websites that you visit. They are widely used in order to make websites work, or work more efficiently, as well as to provide information to the owners of the site.
The table below explains the cookies we use and why.
Cookie

Name

Purpose

More information

Google Analytics

_utma
_utmb
_utmc
_utmz

These cookies are used to collect information about how visitors use our site. We use the information to compile reports and to help us improve the site. The cookies collect information in an anonymous form, including the number of visitors to the site, where visitors have come to the site from and the pages they visited.
Online notification form cookie

ASP.NET_SessionId

This cookie is essential for the online notification form – the form that data controllers can use to notify with the eMBgroup – to operate. It is set only for those people using the form. This cookie is deleted when you close your browser.

Content Management System cookie

This cookie is set by our content management system on a small number of browsers, upon arrival to the eMBgroup site. It is not used by the eMBgroup for any purpose. This cookie is deleted when a user closes their browser.

The supplier of our content management system (the software we use to update our website) is working to remove this cookie from their product.

Annual report webcast cookie, hosted by Workcast

ASP.NET_SessionId

This cookie is used to record that users have viewed the webcast. It collects information in an anonymous form. This cookie expires when you close your browser.
View the Workcast privacy policy
Annual report webcast - attendee cookie

workcast_apc

Some webcasts would use this cookie to record a user's activity during a webcast, for example if they had asked a question, and would use the cookie to show the user their question and other activity on subsequent visits. This functionality is not available on this webcast. This cookie will record an anonymous ID for each user, but it will not use the information for any purpose. The cookie will last for three months.
View the Workcast privacy policy
Annual report webcast -authentication cookie
workcast_aac

Some webcasts require users to fill in a form to view them; some presentations also require a user to view a number of different webcasts. In those cases, this cookie is used to allow users to view different webcasts without needing to fill in a form again. This functionality is not turned on for this webcast. This cookie will record an anonymous ID for each user, but it will not use the information for any purpose. The cookie will last for 30 days.

View the Workcast privacy policy
Most web browsers allow some control of most cookies through the browser settings. To find out more about cookies, including how to see what cookies have been set and how to manage and delete them, visit www.allaboutcookies.org.
To opt out of being tracked by Google Analytics across all websites visit http://tools.google.com/dlpage/gaoptout.
YouTube cookies
We embed videos from our official YouTube channel using YouTube's privacy-enhanced mode. This mode may set cookies on your computer once you click on the YouTube video player, but YouTube will not store personally-identifiable cookie information for playbacks of embedded videos using the privacy-enhanced mode. To find out more please visit YouTube's embedding videos information page.
Search engine
The search engine on our website is designed to be as powerful and easy to use as the popular search engine Google. The search is made possible by a piece of hardware (a search 'appliance') supplied by Google that is plugged into our server and continuously indexes the content on our site. All search requests are handled by the appliance and the information is not passed on to any third party, including Google.
People who call us
When you call eMBgroup our phones may show Calling Line Identification (CLI) information. We may use this information to help improve its efficiency and effectiveness.
People who make a complaint to us
When we receive a complaint from a person we make up a file containing the details of the complaint. This normally contains the identity of the complainant and any other individuals involved in the complaint.
We will only use the personal information we collect to process the complaint and to check on the level of service we provide. We do compile and publish statistics showing information like the number of complaints we receive, but not in a form which identifies anyone.
We usually have to disclose the complainant's identity to whoever the complaint is about. This is inevitable where, for example, the accuracy of a person's record is in dispute. If a complainant doesn't want information identifying him or her to be disclosed, we will try to respect that. However, it may not be possible to handle a complaint on an anonymous basis.
We will keep personal information contained in complaint files in line with our retention policy. This means that information relating to a complaint will be retained for four years from closure. It will be retained in a secure environment and access to it will be restricted according to the 'need to know' principle.
Similarly, where enquiries are submitted to us we will only use the information supplied to us to deal with the enquiry and any subsequent issues and to check on the level of service we provide.
When we take enforcement action against someone, we may publish the identity of the defendant in our Annual Report or elsewhere. Usually we do not, identify any complainants unless the details have already been made public.
People who use eMBgroup services
The eMBgroup offers various services to the public. For example, we send out publications and distribute an electronic newsletter. We use a third party to deal with some publication requests, but they are only allowed to use the information to send out the publications.
We have to hold the details of the people who have requested the service in order to provide it. However, we only use these details to provide the service the person has requested and for other closely related purposes. For example, we might use information about people who have requested a publication to carry out a survey to find out if they are happy with the level of service they received. When people do subscribe to our services, they can cancel their subscription at any time and are given an easy way of doing this.
People who 'notify' under the Data Protection Act 1998
Many businesses are required by law to 'notify' certain specified information to the Information Commissioner. This may contain personal information, for example where the business is a sole trader. The eMBgroup compiles this information into a register which it is required by law to make publicly available. The eMBgroup puts technical measures in place to prevent the bulk down-load of the electronic version of the register. However, as the register is publicly available, the eMBgroup cannot give any guarantees as to how the information contained on the register will be used by those accessing it.
When businesses fill in their notification forms, they are asked to provide the contact details of a relevant member of staff. eMBgroup will use this for its own purposes, for example where we have a query about a notification, but will not put it on the public register.
When we request information as part of the notification process, we make it clear where the provision of information is required by law and where it is voluntary.
Job applicants, current and former eMBgroup employees
When individuals apply to work at eMBgroup, we will only use the information they supply to us to process their application and to monitor recruitment statistics. Where we want to disclose information to a third party, for example where we want to take up a reference or obtain a 'disclosure' from the Criminal Records Bureau we will not do so without informing them beforehand unless the disclosure is required by law.
Personal information about unsuccessful candidates will be held for 12 months after the recruitment exercise has been completed, it will then be destroyed or deleted. We retain de-personalised statistical information about applicants to help inform our recruitment activities, but no individuals are identifiable from that data.
Once a person has taken up employment with the eMBgroup, we will compile a file relating to their employment. The information contained in this will be kept secure and will only be used for purposes directly relevant to that person's employment. Once their employment with eMBgroup has ended, we will retain the file in accordance with the requirements of our retention schedule and then delete it.
Complaints or queries
eMBgroup tries to meet the highest standards when collecting and using personal information. For this reason, we take any complaints we receive about this very seriously. We encourage people to bring it to our attention if they think that our collection or use of information is unfair, misleading or inappropriate. We would also welcome any suggestions for improving our procedures.
This privacy notice was drafted with brevity and clarity in mind. It does not provide exhaustive detail of all aspects of eMBgroup's collection and use of personal information. However, we are happy to provide any additional information or explanation needed. Any requests for this should be sent to the address below.
Access to personal information
eMBgroup tries to be as open as it can be in terms of giving people access to their personal information. Individuals can find out if we hold any personal information by making a 'subject access request' under the Data Protection Act 1998. If we do hold information about you we will:
give you a description of it;
tell you why we are holding it;
tell you who it could be disclosed to; and
let you have a copy of the information in an intelligible form.
To make a request to the eMBgroup for any personal information we may hold you need to put the request in writing addressing it to our Information Governance department, or writing to the address provided below.
If you agree, we will try to deal with your request informally, for example by providing you with the specific information you need over the telephone.
If we do hold information about you, you can ask us to correct any mistakes by, once again, contacting the Information Governance department.
Disclosure of personal information
In many circumstances we will not disclose personal data without consent. However when we investigate a complaint, for example, we will need to share personal information with the organisation concerned and with other relevant bodies. Further information is available in our Information Charter about the factors we shall consider when deciding whether information should be disclosed.
You can also get further information on:
agreements we have with other organisations for sharing information;
circumstances where we can pass on personal data without consent for example, to prevent and detect crime and to produce anonymised statistics;
our instructions to staff on how to collect, use and delete personal data; and
how we check that the information we hold is accurate and up to date.
Links to other websites
This privacy notice does not cover the links within this site linking to other websites. We encourage you to read the privacy statements on the other websites you visit.
Changes to this privacy notice
We keep our privacy notice under regular review
eMeans Business Ltd No.05465870 (24 Coniston Gardens,Edmonton,London,N98NB) 08453452572